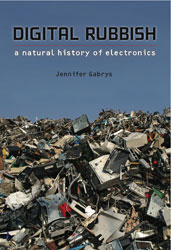 Digital Rubbish: A natural history of electronics by Jennifer Gabrys in the digitalculturebooks series.
Table of Contents
Preface
Introduction
one: Silicon Elephants
two: exchange at the interface
three: Shipping and Receiving
four: Museum of Failure
five: Media in the Dump
Conclusion
Notes
Bibliography
Newspaper Articles
Archives and Museums
Index
This book is attached as an appendix to Jussi Parikkas Medianatures mentioned in a earlier post. Yet this is a book in it self and can be read online as well. And while I am currently reading the second chapter I think that this book really deserves a post of its own.